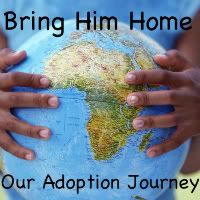 My best friend's blog auction is this weekend. They are adopting a boy from Ethiopia and need tons of funds! Check out their blog this Friday to see what is up for bids. I have decided to donate a 4th of July tie strap tank top that I made. Be sure to go over and bid on the awesome items!
My husband and I talked about adopting when we were dating. It is something that we are looking forward to doing. I have some friends who have adopted and some that are in the process of adopting.
This morning, I saw that Wendy's is giving $.50 toward the Dave Thomas Foundation for Adoption (DTFA) for each Frosty that is sold on Father's Day Weekend. They are also giving $.50 to DTFA for each Frosty card that is sent. Go here to create and send a card. It's super easy!